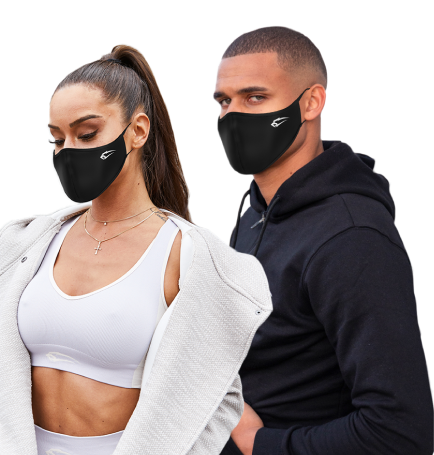 we enclose a non-
medical fabric mask with EVERY order from 0€
Shop now
*from 0€ | Add manually to shopping cart | while supplies last | for every order
You ask
you, why do we
include the
masks?
The current time is a major challenge for our society. Social isolation, consideration, patience and awareness are necessary to be able to return to normality as quickly as possible. All measures currently being taken by the government serve one purpose:
To protect us and our fellow human beings from infection by the novel Covid-19 virus.
In order to stop the spread of the pathogen, we had Smilodox produce protective masks for our own use. In addition, masks are currently in short supply and are sold or auctioned online at far too high a price. We want to counteract this so that everyone has access to a non-medical fabric mask. Of course you can sew the mouthguard yourself. But why all this effort if we give you the opportunity to secure a face mask for every order from 0 €?
why are
face masks
important?
With the help of these face masks, the risk of infection is reduced, because even without showing symptoms, a person can carry this virus and infect their fellow human beings.
Our breathable face mask is neither a medical product nor does it offer protection against infection. However, they can prevent infecting others because they reduce the spread of larger droplets from the wearer. Our quick-drying and breathable protective mask made of 100% polyester is reusable and washable at up to 60 degrees.
do we take away
doctors &
take care of important
materials
?
A competitive situation for protective masks for medical use, for sick and nursing staff, is ruled out with the Smilodox protective masks
It is important for us to emphasize that we do not want to profit from the current emergency
We want:
- health for our society
- The fastest possible return to normality
- that enough suitable protective masks are available for medical institutions and professions
how do i
get my own
face mask?
Regardless of whether you order from Smilodox, Neosupps or Foodsbest, for orders from 04.15. from 6 p.m. a mask will be added to every order for free, regardless of the order value! This must be added manually in the shopping cart! If masks are required in larger quantities, write an inquiry to versand@smilodox.com.
STAY HEALTHY
YOUR TEAM SMILODOX

.